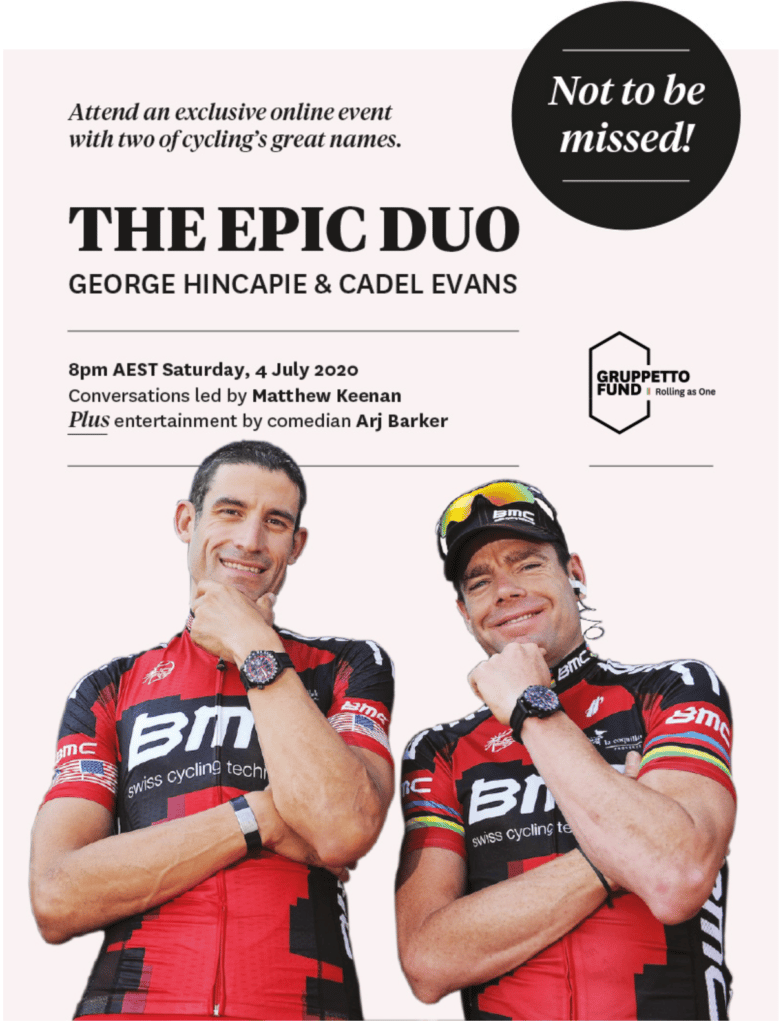 On July 4, to mark what should have been the start of one of cycling's greatest annual events, the Tour de France, two great cyclists will discuss the highs and lows of their cycling careers and experiences.
In an online charity event hosted by SBS cycling commentator Matt Keenan, Australia's Cadel Evans and America's George Hincapie will answer the tough questions.
Entertainment will be provided by Melbourne-based comedian Arj Barker.
The event is organised by the Gruppetto Fund, a sub-fund of the Australian Communities Foundation (ACF).
The event will raise funds for the Newsboys Foundation which distributes grants to not-for-profit organisations that work with vulnerable young people.
Newsboys Foundation CEO Sandy Shaw said: "I'm really looking forward to hearing directly from Cadel and George. Both have fascinating stories to tell. The event presents a rare opportunity to ask them the questions that you've always wanted to ask."
When: Live from 8pm on 4 July 2020
Tickets: cost $37.50 and can be purchased via this link.
Or via the Gruppetto Fund website: https://www.gruppetto.com.au
About the panel:
Cadel Evans is the first Australian to win the Tour de France. He won the World Cup in 1998 and 1999 and placed seventh in the men's cross-country mountain bike race at the 2000 Summer Olympics in Sydney. He is a four-time Olympian.
George Hincapie was a key domestique of Lance Armstrong and a domestique for Alberto Contador in 2007 and for Cadel Evans in 2011, when he and Cadel Evans won the Tour de France. He is the owner and general manager of UCI Professional Continental team Hincapie–Leomo p/b BMC.
Matthew Keenan is Australia's leading cycling broadcaster. Matthew usually leads the SBS official world feed of the Tour de France. Matthew has called the world's greatest cycling events including the Giro d'Italia, Vuelta a España and UCI Road World Championships also form part of Matt's SBS commitments. He is an ambassador for The Baker Institute and the Carlton Football Club.